100% offline,
100% durable
Like an offline PC, ColdSecure securely generates a Bitcoin private key
and stores it on a ruggedized microSD card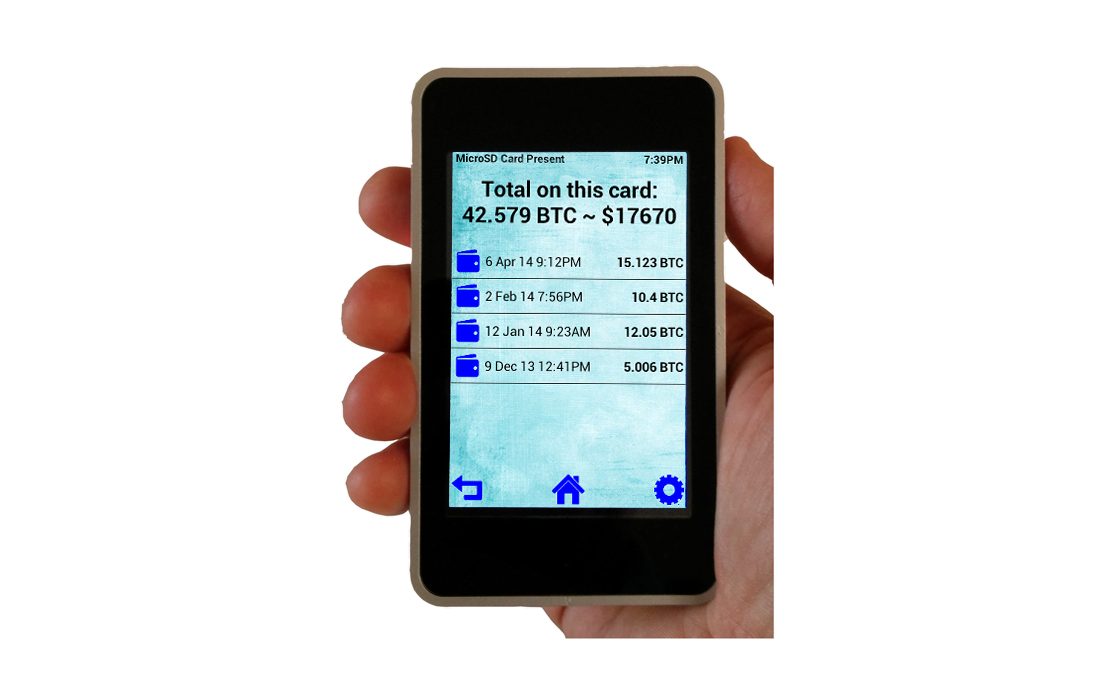 100% OFFLINE


No Wi-Fi, No Bluetooth, No RF.

OFFLINE!
NO USB PLUG


Not even a data connector. We said

OFFLINE!
OPEN SOURCE


Peer reviews. Compile it yourself for maximum trust
RUGGEDIZED CARD


So much more secure than a paper wallet!
KEYS ON SD CARD


The device doesn't keep any private key
BACKUP KEYS


Store the private keys on two microSD cards
No Wi-Fi, not even a connector, hackers
will have a hard time to break into your device - and the NSA too!
Technical Specifications
To give a rough idea of the capability of the device, it's very similar to the Google Nest thermostat.




HARDWARE:




- Texas Instruments ARM Cortex-A8

- 512MB LPDDR2 RAM

- 256MB Nand (reserved for firmware)

- 3.5 inch screen with HVGA resolution

- Multi-touch capacitive touchscreen

- Front facing VGA color camera

- 500mAh polymer battery

- Micro SD Card slot




SD CARD:




- One rugged "indestructible" micro SD card: survive 24 hours in water, withstand the force of a 1.6 ton vehicle (3,200 pounds), and resist up to 10,000 gauss

- A convenient micro SD card holder to avoid losing your cards




SOFTWARE:




- 100% open source with Linux kernel & Qt framework

- Boot to application in a few seconds

- Option to lock the firmware forever

- Android 4.x possible though HIGHLY unrecommended
Brief overview of software architecture

ColdSecure is similar to BitSecure with a micro SD card slot
and without the Wi-Fi module


Licensing for top-tier Players
If you are a top-tier player in the Bitcoin ecosystem or in the "legacy" credit card world, you can license the whole design of ColdSecure with a full technology transfer possible. Feel free to contact us and describe your project / needs.